History of the RE/MAX Hot Air Balloon
All brands are represented by something. Whether it is a swoosh that symbolizes one of the biggest brands in the world, a set of golden arches that represent a company that can test even the strongest of will powers, or a balloon that represents one of the biggest names in real estate, icons are arguably one of the most important parts of any brand.
At RE/MAX, the balloon represents so much more than just the company. The balloon represents the hard work and dedication put forth by each and every RE/MAX agent, allowing them to soar high above the crowd. It represents that they will go above and beyond to help you find your dream home, and shows that when you want to work with the best, you know who to turn to. The RE/MAX brand is not only a leader in the real estate industry, but is widely known as having the most productive agents in the world.
About the RE/MAX Balloon
The RE/MAX Balloon is one of the most widely recognized symbols in North America and was first seen by spectators of the Albuquerque Hot Air Balloon Festival in 1978. In North America, there are approximately 100 RE/MAX Balloons engaged in promotional programs, with millions of people witnessing this strong corporate symbol each year as it flies high above them in the sky. The RE/MAX Balloon represents an excellent opportunity to create awareness and promote goodwill in the community and takes thousands of people on flights each year.
Have you Spotted the RE/MAX Balloon?
As such a strong symbol, we love to see our happy homeowners enjoying the RE/MAX balloon as it flies above them. Sponsored by RE/MAX offices and agents, the RE/MAX balloon can be found at community and charity events across Canada. RE/MAX offers tethered hot air balloon flights—weather permitting—to thousands of people every year! If you spot the balloon, we want to see your photos! Get your cameras ready to go, and tag us on social media or share using #AboveTheCrowd!
If you are an office or agent interested in hiring the balloon for your next event, please complete the request form.
Visit the RE/MAX Special Events Team website for more information about the RE/MAX hot air balloon program.
Miracle Home Program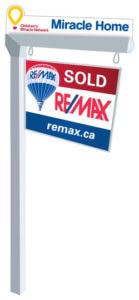 RE/MAX leads the way in real estate and fundraising for Children's Miracle Network! We've raised more than $56 million in Canada, bringing the international total to $138 million!
Children's Miracle Network and their member hospitals appreciate all the wonderful fundraising that RE/MAX has achieved: Helping more than 2.6 million children receive quality care from children's hospitals across Canada each year.
The RE/MAX Miracle Home Program allows our real estate professionals the opportunity to make a donation to Children's Miracle Network from each transaction they complete. At RE/MAX, we believe the difference we make when we help others in our community benefits us all.
We are proud of our 23-year partnership with Children's Miracle Network. RE/MAX has designated August of each year to be the RE/MAX Month of Miracles. During the Month of Miracles, consumers and agents alike will become familiar with the community contributions that RE/MAX makes through the Miracle Home Program. By choosing a RE/MAX agent who is part of the Miracle Home Program, you are helping make miracles happen in the lives of children.

Grade 12 Graduates Eligible for $16,000 through RE/MAX Quest for Excellence Bursary Program!
Kelowna, B.C. (September 10, 2018) – RE/MAX of Western Canada is committed to helping future community leaders by offering $16,000 in bursary funds through its annual Quest for Excellence Program. One recipient—in addition to his/her bursary—will receive a hot air balloon ride for two.
The Quest for Excellence Program recognizes the pursuits in leadership and community contributions of Western Canadian students. High school students graduating in 2019 from British Columbia, Alberta, Saskatchewan, Manitoba, Yukon and Northwest Territories are encouraged to write an essay to convey the contributions they have made to enrich the lives of others and their communities through leadership, motivation, volunteering and participation in charitable events or fundraising.
"It's truly amazing learning about our applicants for the Quest for Excellence Bursary Program each year," says Marie Sheppy, Manager, Corporate Affairs, RE/MAX of Western Canada. "Their admirable attitudes and selfless actions allow them to impact their communities in a positive away."
Sixteen winners will be selected from entries received online at remax.ca. Each winner will receive a $1,000 RE/MAX Quest for Excellence bursary. All 16 bursary recipients will be placed in a draw and one lucky student will also receive a hot air balloon ride for two from the closest major city. The application deadline is March 11, 2019.  Award recipients will be notified in April 2019, with a formal presentation at the students' commencement ceremonies.
"All of the students we recognize each year through Quest for Excellence have made positive impacts on their communities," says Elton Ash, Regional Executive Vice President, RE/MAX of Western Canada. "This is a program we're incredibly proud of, because it helps empower these young leaders on their journey."
For more information, visit: www.remax.ca.
We appreciate your assistance with communicating this program to Western Canadian students in your community.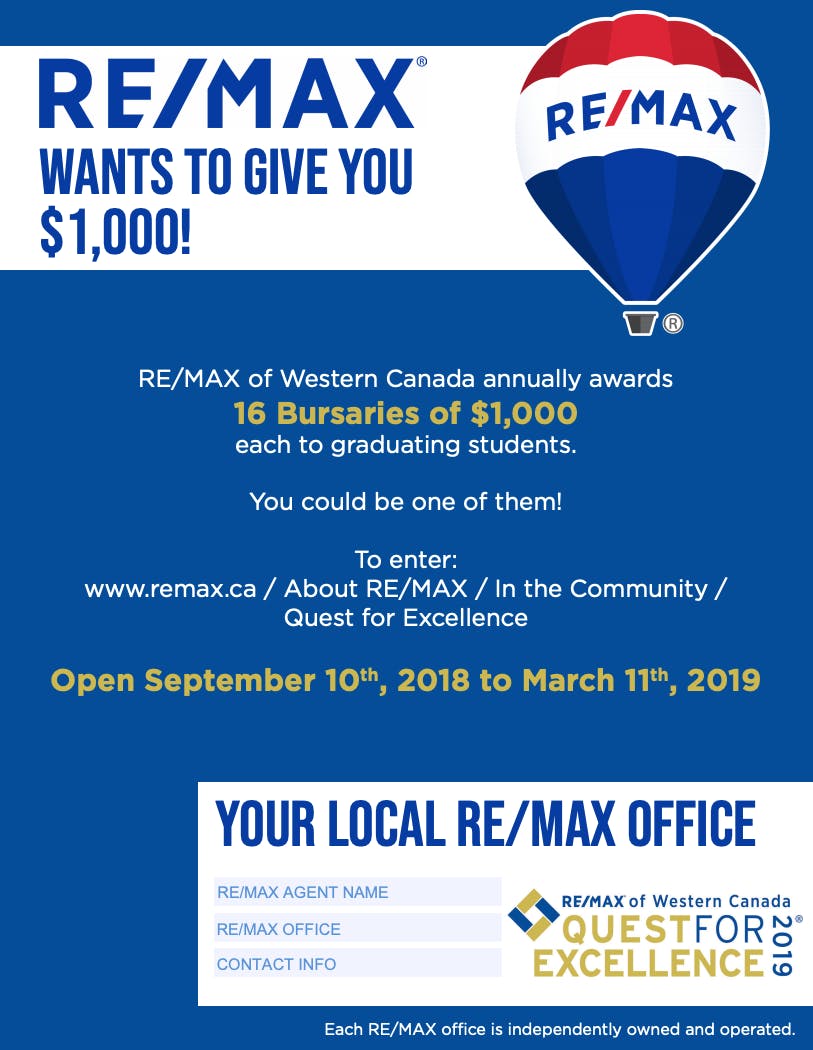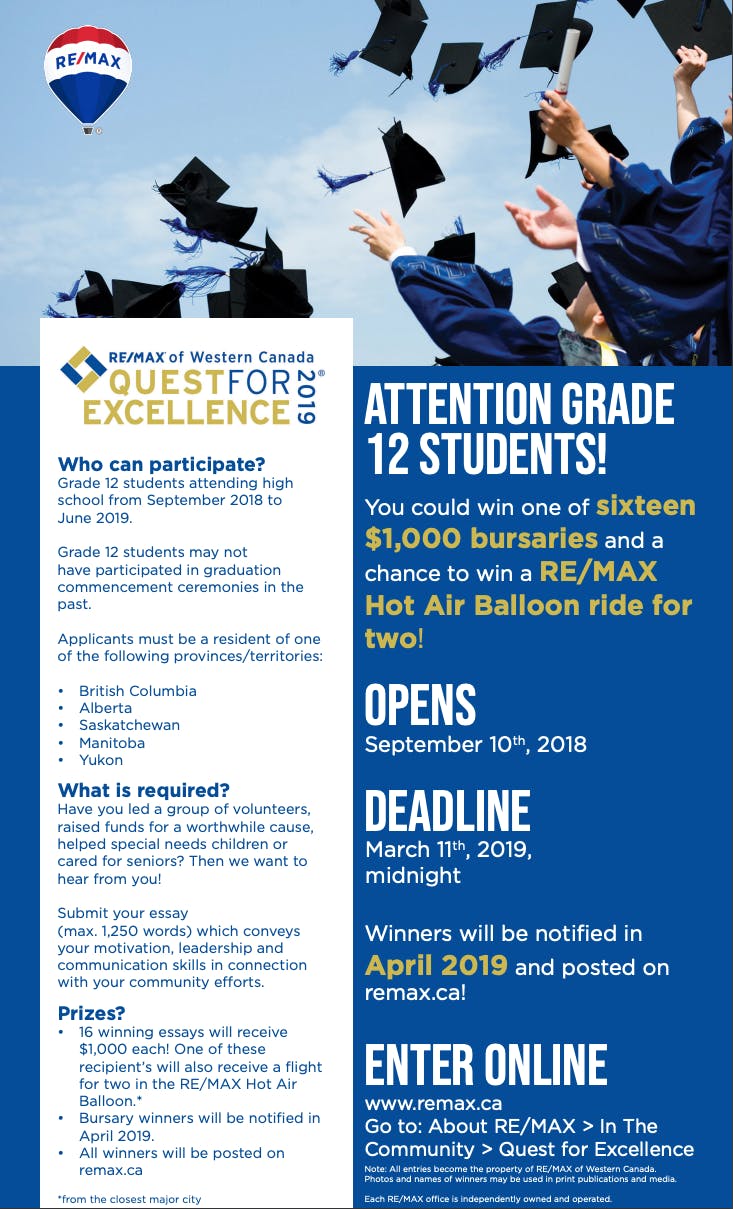 Together we can make a difference in the lives of our students by touching on their passion and spirit.
To view our Quest for Excellence Winners 2018 (Photos), click here!
Congratulations to our 2018 Quest for Excellence Bursary Program winners.
To view our Quest for Excellence Winners (Photos), click here!
Congratulations to our 2017 Quest for Excellence Bursary Program winners.
To view our 2016 Quest for Excellence® winners, click here!
Previous Quest for Excellence® Bursary Winners
2015 Winners  2014 Winners
For questions regarding this program, please email ksheppy@remax.net
Note: All entries become the property of RE/MAX of Western Canada and photos and names of winners may be used in print publications and media.
RE/MAX of Western Canada is proud to support National Organ Donor Awareness Week every April as designated by the Canadian Association of Transplantation.
With the continued support of RE/MAX of Western Canada and other organizations helping spread the word on the need for organ donors, the BC Transplant Organization performed a record 266 organ transplants in 2008. RE/MAX provides a link from their website, remax.ca, to the provincial transplant programs for organ donor registration.
THE STORY BEHIND OUR INVOLVEMENT

QUICK FACTS
4,500 people waited for a life-saving organ or tissue donation in 2012
2,124 transplants were performed in 2012
256 people died while waiting for a life-saving transplant in 2012
Registering your decision to become an organ donor can save up to eight lives and improve the quality of life for up to 80 others.
The critical shortage of donors is only increasing, as fewer people are dying in ways that make organ donation an option. This is due to positive factors: improved safety measures such as airbags and helmet laws, as well as continued advancements in medical care. Nonetheless, the average person is far more likely to need an organ transplant than to be eligible to donate an organ.
"It is our hope that our commitment to raising awareness about the shortage of organ donors will encourage the public to register their decision or sign a donor card," – Elton Ash, Regional Executive Vice President, RE/MAX of Western Canada
In B.C., the Organ Donor Registry offers four different options for donation, including the option not to donate. For more information, visit liveon.ca
Home Team Contest (Western Canada)
RE/MAX of Western Canada is excited to offer clients and fans a chance to win WHL hockey tickets and home improvement prizes through the RE/MAX Home Team Contest. The RE/MAX Home Team Contest has two phases – the WHL ticket contest which runs from September to the end of February each year and the grand prize sweepstakes which runs from March to the end of April each year. The 2015-16 contest is now closed. Check back in September 2016 for details on the 2016-17 season.